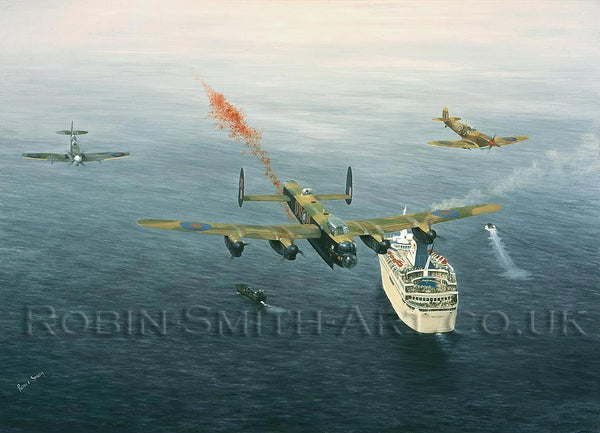 60th Anniversary Poppy Drop
I was commissioned by the Lincolshire Lancaster Assoc. in conjunction with the Battle of Britain Memorial flight, to paint this canvas. The image depicts Lancaster PA 474 along with Spitfire Mk 356 and AB 910 dropping one million poppies over Mv Van Gough off the coast of Normandy, celebrating the invasion of the Normandy beaches in june 1944. The event was witnessed by veterans of D-Day on board the Van Gough as the Lancaster released the petals from the gapping bomb bay.
One of the main problems to solve when painting the picture, was interperating the limited photos. of the Van Gough taken from the rear turret. The angle of the ship had to be changed to allow it to sit convincingly on the sea and combine with the angle of the Lanc. I decided on a steep angle looking down on the Lancaster as this gave me the opportunity to slightly overlap the ship with the Lanc. wing tip, helping to tie the composition together.
Signed by: Sqn. Ldr. Clive Rowley OC. BBMF. Spit MK356; Wg. Cdr. Paul Willis, Spit. AB 910; Sqn. Ldr. Stu Reid, Lanc. PA 474; Robin Smith, Artist.