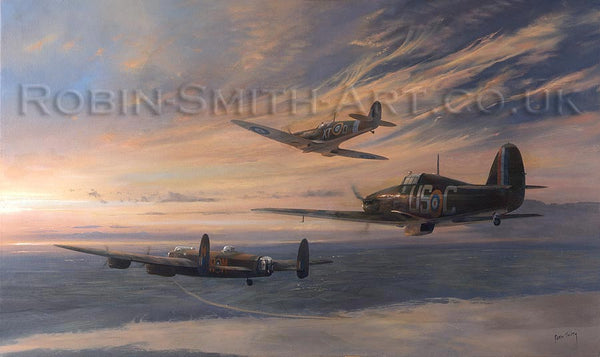 At the Going Down of the Sun
The Battle of Britain Memorial Flight trio, the flagship Lancaster, accompanied by the Memorial Flights classic Hurricane and Spitfire, returning from Norfolk after an air display.
Signing on behalf of the Lancaster, is Sqdn. Ldr. T. Iveson DFC and bar, oneof the key players in the sinking of the German battleship, Tirpitz.

On behalf of the Hurricane, Wg. Cdr. P Barthropp DFC. AFC. one of the most sought after Battle of Britain pilots for his signature in this country. The present day Memorial Flight Hurricane depicted, was in fact his personal aircraft for several years after the war.

Representing the Spitfire theme of the print has been signed by Sqdn. Ldr. D. Nicholls DFC. a surviving Battle of Britain Ace.

The final personality signature is that of the present C/O of the Flight, Sqdn. Ldr. Paul Day adding his mark, famed as the pilot with the most Spitfire hours under his belt in the world.

The painting actually took about eight weeks during which a film company filmed the work on both video and DVD starting with research/ sketches / and models to the final signing. To obtain a DVD or Video see the Extra Items section here.

The sky was worked up from a photograph I took above my cottage when I lived in Derby. The lower portion of the sky had to be re-worked a little to accomodate the fact that the observer is approx 2,000 feet high. The group is flying over the Wash after a show in Norfolk.

Litho print - overall size 28" x 18½", image size 26" x 15"
Signed limited edition of 500 (50 remarques)