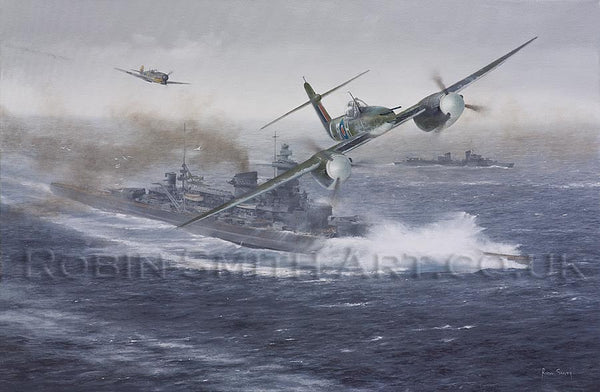 Channel Dash
Unknown to a lot of people, the Westland Whirlwind was involved in the attack on the Scharnhorst during the Channel Dash. My print depicts this event as a Whirlwind swoops low over the Battleship chased by the ever present BF 109's. The Whirlwind was indeed a formidable attack aircraft, but unfortunately suffered engine problems throughout it's short career, this being reflected in the fact that it was only taken on by two sqns. 236 and 137. The image shows an aircraft from 137 Sqn.

The last operational sortie flown by a whirlwind was on 29th. Nov.1943, after which they were replaced by Hawker Typhoons.

To me, an equally interesting element of the image is that of the Scharnhorst itself. One of negative performance characteristics of the vessel was the fact that the bow seemed to spend most of it's time under water! A modification to the bow was employed known as an Atlantic bow, but apparently had little effect. The ship bobbed up and down so much, the forward turrets were frequently out of action.

I would love to paint a pure WW11 marine scene involving a big Capital ship. Watch this space.
Artist signed limited edition Giclee print of 500 - overall size 24" x 17¼", image size 20" x 13"