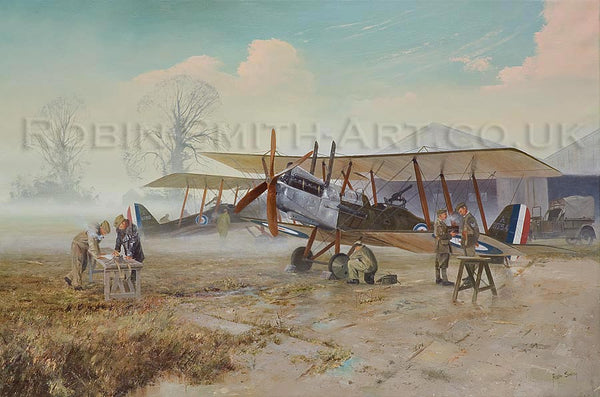 Early Morning Preparations
My latest release, RE8's being prepared for another sortie. The original, commissioned by and now in the private collection of Sir Peter Jackson sits in his museum in New Zealand.

The image depicts RE8's of 69 Sqn. being prepared for another sortie. One can only be left to imagine the contrast between the peaceful early morning scenario, and the carnage the pilot and observer could be experiencing in a couple of hours time over a foreign land.

The colours of the British aircraft during WW1 were not the most ambitious, usually painted in what's known as PC10 or (more appropriately,) Drab Olive. It can be quite a tricky colour to render as the PC10 specification actually takes in five shades, ranging from a brown khaki to a greeny brown depending on the era according to the historians, or quite possibly what was lying around at the time!

Peter wanted a misty ambience to the composition, a characteristic I love to catch as it allows me to exploit my landscape techniques. The commission was in fact the second of a pair. The first subject was FE2b's. This title will follow shortly in print.
Artist signed limited edition of 500 - Giclee print overall size 20" x 15½", image size 16" x 10½"