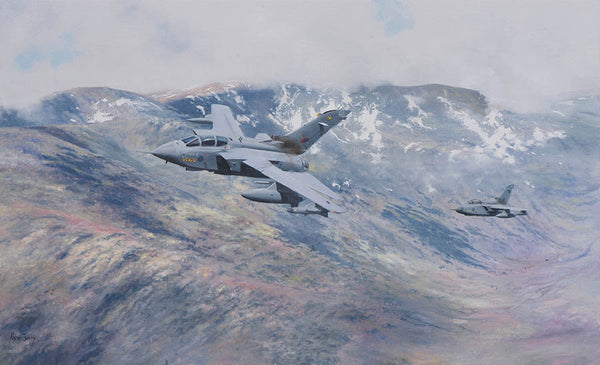 Tornado Alley
The Tornado painting represents a Panavia Tornado GR4 flying low over the Lake District during one of the RAFs training exercises. The type employs the variable geometry (swing wing) concept, allowing the aircraft to operate at its maximum flying efficiency during different flying conditions, i.e. landing, taking off, cruising and fighting. The mechanics hidden in the wings allows the under wing ordnance to be pointing fully forward irrespective of the angle of the wings, offering minimum airflow drag. A two seat fighter, the Tornado is an all weather day or night fighter capable of carrying all types of present day weaponry including DMS and Legacy Brimstone, Enhanced Paveway II, Storm Shadow, Paveway II, Paveway III, Paveway IV, Mauser 27mm Cannon, ASRAAM.

The Tornado is the result of a multi-country consortium, built and operated by the component countries Britain, Italy and Germany. Saudi Arabia is also a purchaser of the Tornado.

Capable of a maximum altitude of 50,000 ft and speed of Mach 1.3, the aircraft is powered by two RR RB 199 Mk 103 Turbofans, each with a thrust of 16,000 lbs.
Artist signed limited edition of 200 prints - image size 24" x 14½"