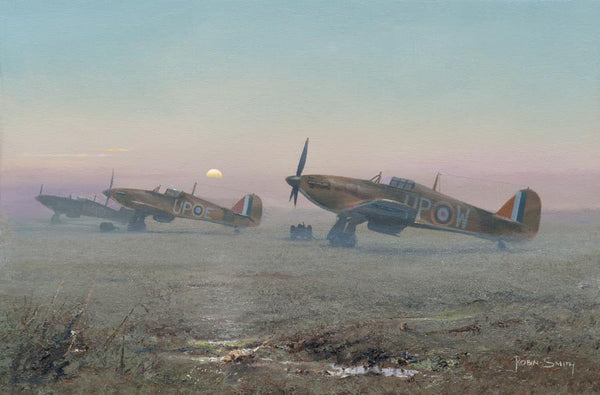 We Never Slept
Hurricanes of 605 (County of Warwick) Squadron Royal Auxiliary Air Force lies at readiness in the early morning sunlight at Croydon Airfield. Later in the morning they would be in intense dogfights defending the Nation's capital, London. The Squadron's motto Nunquam dormio – We Never Slept.

This squadron would become one of the most successful during The Battle of Britain.

Along with myself I am honoured to have included on the print, the signature of Wing Commander Bob Foster DFC AE.

Pilot Officer Bob Foster joined 605 Squadron in early September where they were based at Croydon; he was in the thick of the air fighting over Southern England flying several combat sorties in Hurricane R4118 claiming two victories. After the Battle of Britain he became an instructor and then joined 54 Squadron being sent to Australia to help defend against the Japanese invasion, for this he was awarded the Distinguished Flying Cross. In 1944 he came back to the UK but ended up in Normandy within three weeks of the invasion.
Artist and pilot signed limited edition print
overall size 560mm x 445mm, image size 405mm x 270mm
Signed limited edition of 200